Start offering your own Client DPF delete solution with help from our ECU Delete Software. Choose to trade privately or as a FR&RTuning Dealer. We provide equipment and technical support and do the hard work of recalibrating the ECU for you! All you do is read the ECU using the latest equipment, send us the data via email and we will have your recalibrated ECU data ready to be put back onto the equipment and car within 30 minutes!
Costs & Benefits
For a Brand new Dimsport Genius Touch&Map Slave device + 1 year free updates = £1600
DPF Delete ECU File = please call for info.
IN STOCK
All equipment is in stock (Bradford, West Yorkshire) and is available to send out immediately after receiving payment. No waiting around for weeks for equipment to be received from overseas.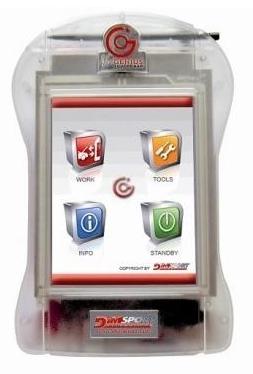 Not familiar with Dimsport?
Download the Dimsport Genius User Manual. This describes the process of reading and writing a ECU, Technical information about the device.

To see the supported vehicle list for this piece of equipment click here . (Last updated 05/07/2011 - new models have been added since then)
You can see this is one of the most extensive list compared to any other piece of equipment which includes the latest MED/EDC17 2009+ VAG cars, Mercedes, BMWs, Citreon and Opel.

Benfits of the Dimsport Genius include a stand alone system so you dont have to worry about laptop or computer performance while reading and writing to ECU (this is the process which will cause around 90% of errors due to demands of other software running on the laptop/computer with the Tuning software). Dimsport genius also does a range of communication tests with the ECU before reading/writing. Most laptop based equipment dont do this and often lead to a "lock out".
For prices and further information please contact us:
Phone (mobile): 07594040272
E-mail: info@fr-rtuning.com